PRODUCT INFORMATION
CAREFULLY CRAFTED SHOES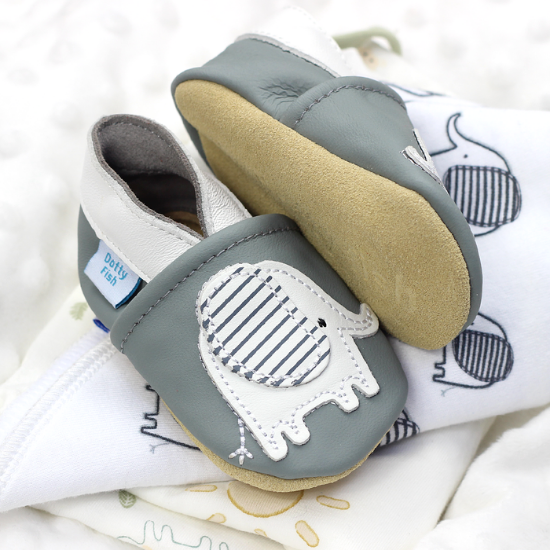 Here at Dotty Fish we use soft, natural leather to carefully craft all our comfortable baby and toddler shoes. They are suitable for new born babies all the way up to children aged 4 years old. Our shoes have been designed in England and they are manufactured in carefully selected factories which we visit regularly. At Dotty Fish we have a range of colourful and fun shoes that are very comfortable. We ensure that they provide the best protection for developing feet.
A slip resistant suede sole means that our soft soled shoes allow little toes to grip on the floor. This action is so critical for developing balance as well as developing the muscles needed to walk. Having a shoe that is light and very flexible makes learning to walk that much easier. Shimmy Shoes, our next stage first walking shoes, are still very soft and flexible but have a slip resistant rubber sole. The more sturdy sole means they are perfect for toddlers exploring their world both indoors as well as outside. Shimmy Shoes have been designed in classic styles so they are perfect party shoes – ideal for all those special occasions as well as everyday use.
As the weather isn't always predictable it's important to have a shoe that can keep feet cool in summer and warm in winter. Our breathable baby safe leather is perfect for this. We have a wide range of styles and our sandals provide even more airflow to those tiny little feet. And for those really chilly days we have snug fleece lined suede slippers. These slippers are very warm and have a non-slip suede sole.
---
SAFETY FIRST
Safety is our number one concern here at Dotty Fish and all our shoes are designed with protecting little feet in mind. The leather we use is baby safe, chrome and chemical free. Great news for all those parents worried about what babies put in their mouths! We quality check all our shoes to ensure that the stitching doesn't come loose.
Our soft soled leather shoes come delivered in a organza bag while the rubber soled Shimmy Shoes are sent out in a lovely little shoe box with a ribbon handle. Both make excellent gifts! We also have a range of coordinating bibs, leggings and socks. These can all be bought separately but can also be bought as part of a gift box and takes the guess work out of selecting a present.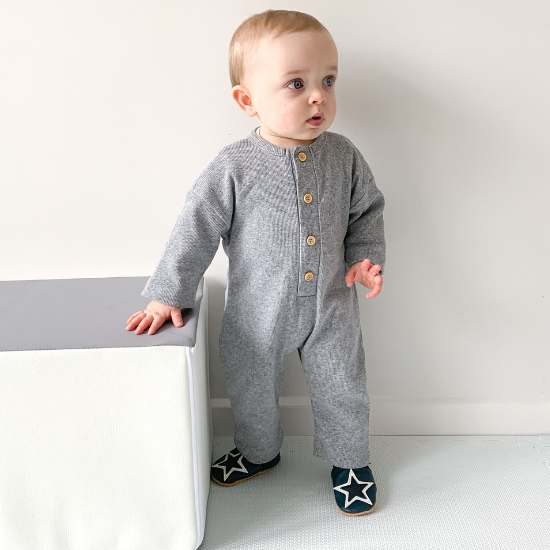 ---
CARING FOR YOUR SHOES
All our baby and toddler shoes are made from leather and so please don't put them in the washing machine! Cleaning our shoes doesn't have to be a daunting task – it's actually quite simple! Read below to find out the best way to clean our leather shoes, suede slippers and rubber soled Shimmy Shoes.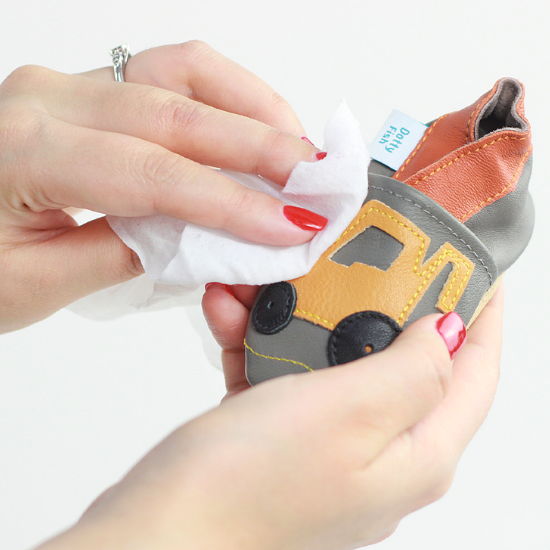 SOFT SOLED LEATHER SHOES
Our soft-sole baby shoe are made using baby safe leather and should never be put in the washing machine. They can be spot cleaned using a damp sponge or baby wipe.
Fleece lined SLIPPERS
Our fleece lined suede slippers are also made from leather that has been tested to ensure it is safe for young children. As they are leather they should not be put in the washing machine either. Again they can be spot cleaned using a damp sponge or baby wipe. If you have a suede brush this can be used to clean the suede upper as well as the soft soles.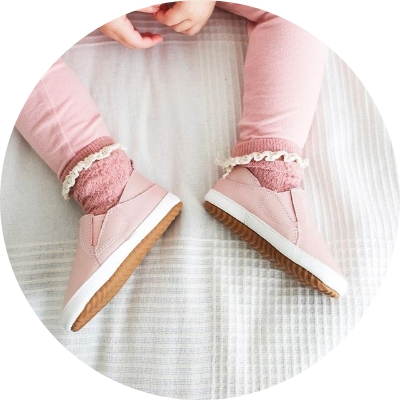 DOTTY FISH SHIMMY SHOES
Shimmy Shoes are made from premium grade baby safe leather and like our other shoes shouldn't be put in the washing machine. As with other shoes and slippers they can be spot cleaned using a damp sponge or baby wipe. The rubber sole can be wiped off using a cloth or sponge and left to dry.