A BIT ABOUT OUR LEATHER TESTING
As a mother I know how important safety is to our customers. When I started this business all those years ago my son, Josh, was a baby and he was our first customer. I watched first hand as he toddled about and explored his Dotty Fish shoes… I also watched as he used his natural curiosity to put the shoes in his mouth! (Why do babies insist on doing this?!) It was therefore important to know the leather used to make Dotty Fish baby shoes was safe.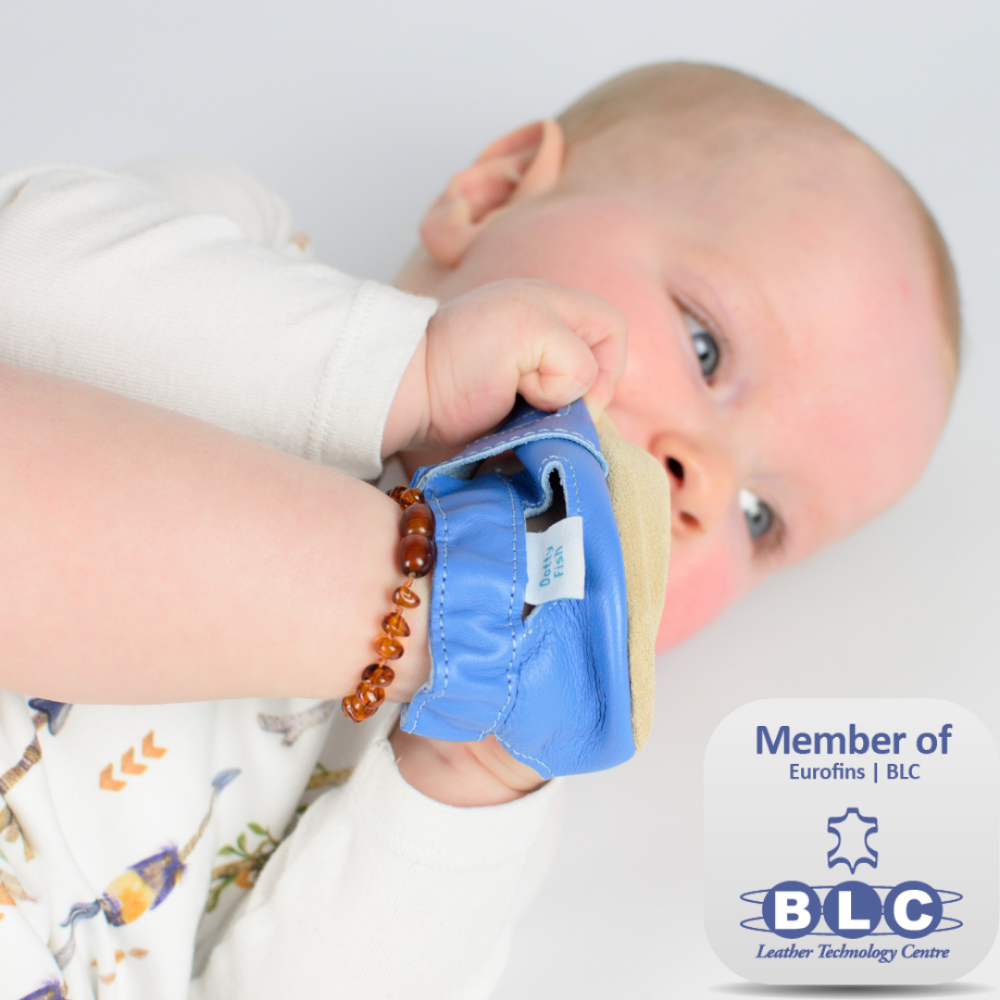 Dotty Fish are members of Eurofins / BLC which is a specialist leather testing facility based in the UK. We use these experts to advise us on the leather industry and keep us up to date on industry safety standards. All Dotty Fish shoes are made from goat, cow or sheep leather which is sample tested at source. We also carry out our own sample testing using the European REACH SAFETY regulations at independent labs in the UK. This means that we can say with confidence that our shoes are made from baby safe leather. All our stitching is tested to ensure everything stays in place and can't be pulled off by little fingers.
I am very proud of my brand and how far we have come over the years. Quality baby shoes at affordable prices is at the heart of what we do at Dotty Fish.

---
LEATHER FAQ'S
What leather is used?
Dotty Fish shoes are made from either sheep, cow or goat leather which has been tested and specially prepared. We don't use pigskin in any of our shoes. This includes the signature non-slip Dotty Fish suede sole.
Is this genuine leather?
Yes – we only use leather and never PU or Pleather. PU leather may look like leather but it does not breathe and will not last as long or be as soft as genuine leather. Also PU leather has a lot more chemicals in it.
Can I wash my Dotty Fish shoes?
No – these are made from leather so should not be put in the washing machine! You can spot clean them with a damp sponge or baby wipe. A suede brush can also be used.
Why are my baby's socks stained after wearing Dotty Fish shoes?
Our shoes are made of natural leather, so unfortunately some colour may run from the shoes every now and again. This can happen if your baby's feet sweat or become slightly damp, especially with our more vibrant designs. We expect the colour run will disappear after a couple of wears, or after running a slightly damp cloth around the ankle trim a few times. If you are unhappy please get in touch with cu[email protected] and we will resolve any issues.