What are Baby Walking Shoes?


Baby walking shoes are lightweight shoes that allow toddlers to find their feet when learning to walk. They typically have a lightweight design and flexible rubber sole allowing babies to grip the floor. These first walking shoes need to have a wide toe area so little feet can spread out.
Those first wobbly steps are precious and to ensure they take many more steps comfortably you need to ensure you get the right first walking shoes for babies. With so much choice it is hard to know which shoes to buy. Here is a list of some of the things to look for when buying your baby's first shoes.
- Are they lightweight and flexible?
- Do they have rubber soles that provides traction?
- Is the toe area wide and rounded so that little feet have room to spread?
- Do they come in width fitting or do they have adjustable fastenings?
- Are they made from natural materials like leather so that they are breathable?
- Are they affordable as toddlers' feet grow quickly and they will need to be replaced often?
At Dotty Fish we have been making quality baby shoes for 15 years, below we answer a few more questions about baby shoes and when babies need walking shoes.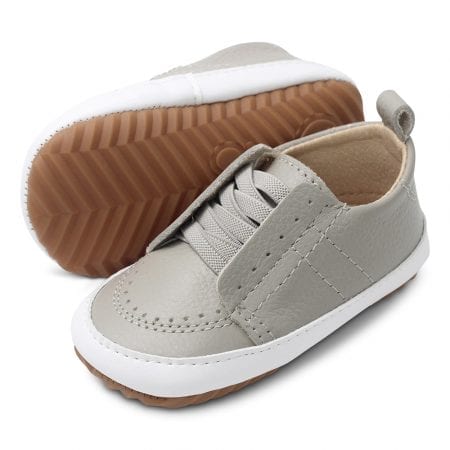 Do young babies need shoes?


Babies' feet grow so quickly and while they are not walking a structured shoe is not needed. It is mostly about temperature control when they are very little. In the summer they need to be kept cool and feet need to be warm in the winter. It can be very tempting to buy a pair of 'mini me' shoes, but these are often quite restrictive and can damage the very soft bones in a baby's foot. They need cotton socks to keep their feet warm although we all know that these just don't stay on! It is useful to have a pair of soft shoes that have elasticated ankles so they keep feet protected but also stay on those wriggly little feet.
Leather is a great material for baby shoes as it is breathable and natural. The shoes need to be roomy and not restrict the foot movement at all. At Dotty Fish we asked the experts and did a lot of research into the type of shoes young babies should be wearing and we are very proud that our soft sole shoes got the stamp of approval from the paediatric podiatrists at The London Podiatry Centre.
Are crawling shoes and cruisers needed?


When babies start to crawl the delicate skin on the tops of their feet can get hurt or scuffed. A pair of soft sole shoes might be a great addition at this stage. This gives feet protection while not inhibiting their movement at all. As they start to pull themselves up and cruise having a very lightweight, thin sole is important. It is at this stage that they start to feel the floor and find their balance. Their toes need to be able to spread out and they need to have a little bit of grip. Having a non-slip sole is ideal at this development stage. Dotty Fish suede soles are perfect for this allowing baby to get the feedback from the floor while giving them a little bit of extra grip on hard surfaces.
Barefoot is still best but when this isn't practical because of the weather or the surfaces then any soft sole shoe is a good option. Make sure they have plenty of wiggle room at the front so that when they stand their foot has plenty of space to spread out. They also need to fit comfortably round the ankles without falling off.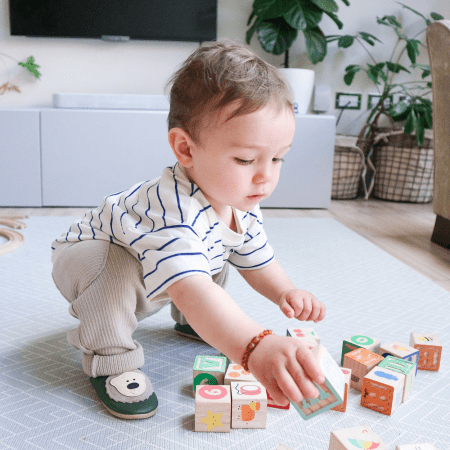 When to get first walking shoes?


Your baby has taken those initial wobbly steps and now it is probably time to get a first pair of shoes. These are 'next-stage' shoes that have a bit more structure. A toddlers first pair of shoes doesn't need a thick heavy sole, they are still finding their feet. An infant shoe with a lightweight flexible sole is best.
Their feet grow so quickly, and you need to make sure there is enough space at the front so their toes are not curled up. It is a good idea to invest in a quality pair of shoes but don't buy the most expensive as you may be buying a few pairs in quick succession as they grow. Here at Dotty Fish, we believe in bringing you quality at affordable prices – our Shimmy Shoe range is ideal for early walkers and come in a range of styles and colours. Our Stomp range have elasticated sides while our Classic Emily T-bar shoes and Oliver Boys Shoes have hook and loop fastening so they are adjustable.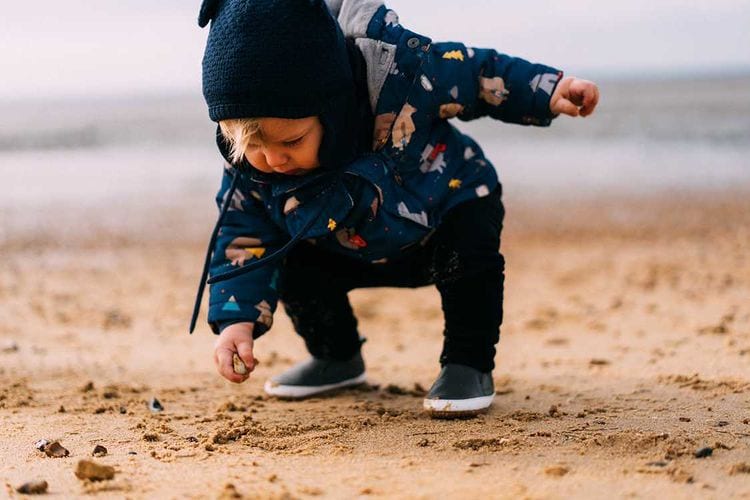 Do I need a hard soled shoe?


Once your toddler is confidently walking and walking long distances a more structured shoe is needed. These shoes need to fit properly with no gaps at the ankle. They need a cushioned instep and ankle support. Shoes that are available with half sizes and width fittings are ideal. If they don't then they should have adjustable closings so they are well fitting. While these shoes will have a hard sole, they still need to be flexible enough to allow little feet to move comfortably.
It is also recommended that young children spend as much time bare foot as possible. Don't have them in shoes all the time. If it is cold or you would like to protect their feet then you could have a pair of indoor leather slippers for playing. Soft sole shoes are the next best thing to bare feet. It is the reason our soft-sole shoes are available in sizes up to 4-5 years!
Toddler holding onto a slide while wearing next stage baby shoes by Dotty Fish We have lots of baby shoes available for each stage of development. If you need help with getting the right size we have a printable foot measuring guide that is easy to use. For any questions or comments on our shoes please do get in touch with us at
[email protected]
. You can also find us on Instagram @dottyfish and on Twitter @dottyfishltd.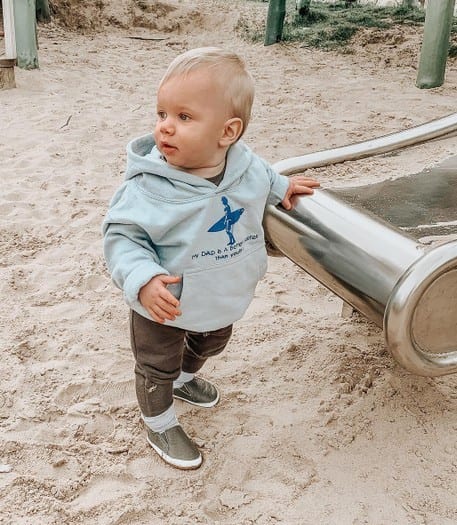 Happy Toddling,

The Dotty Fish Team