As parents, we understand that your little one's first steps are filled with precious moments and milestones. To help you cherish these moments, Dotty Fish is here to offer some friendly advice on how to care for your baby's soft leather shoes, ensuring they last and remain a cherished memory of your child's early days. Our leather baby shoes come with a non-slip suede sole or a rubber sole for those learning to crawl and walk, and they are designed to be both comfortable and affordable. Here are some tips on how to keep them in top shape and why it matters.
Gentle Cleaning for Leather Baby Shoes

Our leather baby shoes should never be tossed into the washing machine. Instead, go for a gentle approach. Use a damp sponge or a wet wipe to clean the surface of the shoes. This method is effective in removing dirt and stains without compromising the leather's quality. While we strongly advise against putting leather baby shoes in the washing machine, we understand that accidents can happen. If your baby's shoes do end up in the wash, don't worry; all is not lost. The key is to dry them away from direct sunlight, which can cause the leather to become brittle. To maintain their shape, stuff the shoes with newspaper while they dry. Shoes that are completely soaked may risk becoming hard and cracking, so it's best to avoid getting them soaking wet whenever possible. We're here to support you in preserving your baby's first steps, and with a little care, your Dotty Fish shoes should last well and withstand everyday use.
Suede Sole Care
The signature Dotty Fish suede sole is ideal for providing grip and giving babies and toddlers a non-slip yet flexible first shoe. Maintaining this suede sole is essential for ensuring grip and durability. Use a suede brush to gently restore the sole's texture after cleaning. A quick brush with a nail brush or other gentle bristle brush will keep the sole in tip-top shape while removing any dirt. Shoes with rubber soles can be cared for by gently shaking off excess dirt and then giving them a clean with a damp sponge. If stones have worked their way into the tread remove these as they can make walking uncomfortable for toddlers' sensitive little feet.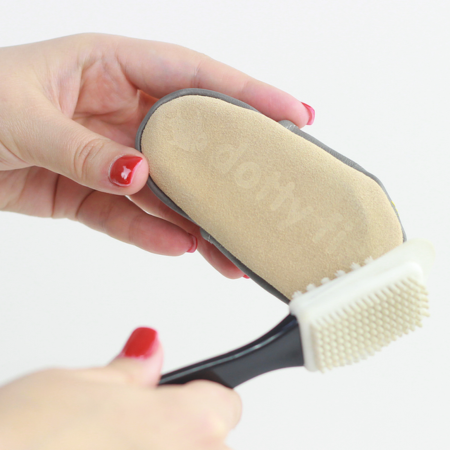 Preserve the First Shoes as Memories
Your baby's first shoes are more than just footwear; they're a keepsake of those early steps. Consider creating a memory box to safeguard these special mementos. Include a photo and any other significant items, like a lock of hair or a birth announcement, to make the box even more meaningful. We are lucky enough to have been part of many children's journey from crawling to walking and those first milestone steps are always precious. All our shoes come delivered in a drawstring gift bag and they do make a lovely little gift that is both practical and adorable.
Ensure Proper Fit and Foot Development
One of the most crucial aspects of caring for your baby's feet is ensuring their shoes fit well and don't hinder natural foot growth and development. Our soft, lightweight, and flexible shoes are designed with this in mind. Always check the fit and opt for shoes that allow your baby's feet to move freely. It is always best to measure your child's feet and use the
size guide
to ensure you are getting the right size for your little one. We believe that baby shoes should not cost the earth and so we ensure our pricing is fair and affordable so when it's time to get the next size up it isn't a huge financial burden. If you would like some more information on caring for baby and toddler's feet then have a look at this helpful
link from the NHS
.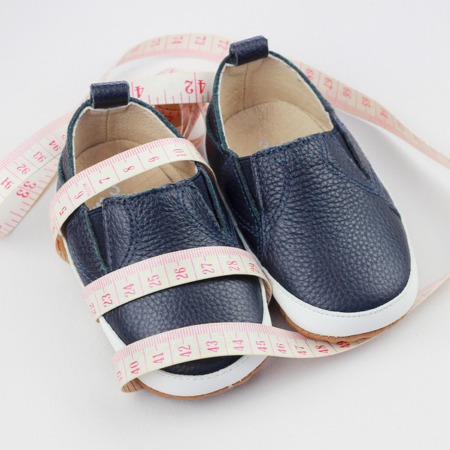 The Value of Soft Sole Shoes
Soft sole baby shoes, like our Dotty Fish collection, offer numerous benefits. They are lightweight, flexible, and help babies develop a better sense of balance as they take their first steps. These shoes provide a blank canvas for your baby's feet, allowing them to grow and develop naturally.
The Downside of Second-Hand Baby Shoes
While recycling is a great practice for many baby items, second-hand baby shoes are not recommended. Each baby's feet are unique, and used shoes may not offer the right support and fit for your child's development. Rather choose a new pair of shoes that fit well with a wide toe area allowing feet to spread out when they stand up and learn to walk. Soft sole baby shoes, like our Dotty Fish collection, offer numerous benefits. They are lightweight, flexible, and help babies develop a better sense of balance as they take their first steps. These shoes provide a blank canvas for your baby's feet, allowing them to grow and develop naturally.
Choosing the Right Shoes for Your Little One
We know how important it is to find the right baby shoes in the UK. At Dotty Fish, we offer a wide range of footwear for young children. We have baby booties, soft sole leather baby shoes, leather indoor slippers and rubber soled toddler shoes all designed in our offices right here in England. All our shoes have been podiatry tested and approved so you know you are choosing shoes that have the professional's stamp of approval. Browse our collection to discover quality footwear that won't break the bank.
Remember, caring for your baby's first shoes is not just about maintenance; it's about preserving precious memories and ensuring your child's feet develop naturally. By following these tips, you can keep those tiny shoes looking great and ready for the next adventure.
At Dotty Fish, we're more than just a baby and toddler footwear brand. We're parents too, and we're here to support you on this incredible journey. Check out our website for a wide range of
soft leather baby shoes
, featuring our signature suede sole or
rubber sole options
, perfect for every stage of your baby's development. Your child's first steps are a momentous occasion, and we're here to make sure they're taken in comfort and style. Our brand has been built on the ethos of creating quality baby and toddler shoes that are affordable, we are the experts in baby and toddler footwear since 2006. We love seeing your little ones proudly wearing Dotty Fish shoes, please do tag us on
Instagram
using the #dottyfish.
Happy Toddling,The Dotty Fish Team