Should babies wear socks or booties?
We have all been there, you arrive home with one missing sock and a baby with a very cold foot. This explains all the disapproving looks from older ladies while wandering around the shop! Booties are a great alternative to socks as they tend to stay on better. Here at Dotty Fish
our baby booties
have a hook and loop fastening and stay-on design. Booties are similar to socks in that they are very flexible and soft and allow for lots of freedom of movement. Baby booties are also just adorable! They work really well for babies while out and about in a baby carrier as their little feet are often exposed but socks keep slipping off and shoes are just too heavy.
Socks may have little non-slip dots but these often get moved to the side so another benefit of booties is that they have a sole. If this is a non-slip sole like the Dotty Fish range then it also allows for a little more traction when your baby starts to crawl and cruise. Baby boots are also a little thicker than socks and so provide a bit more warmth which is great in autumn and winter. Like socks booties are often made from breathable fabric and can be worn all year round, especially when babies are young and still learning to regulate their temperature.
Booties or Shoes?
The design of baby booties is usually a lot less structured than shoes and so allows tiny feet to move and develop without being restricted. That being said if you do prefer a shoe then choose something that is soft and flexible and doesn't restrict babies feet. Dotty Fish has a whole range of
leather baby shoes
that have been podiatry tested and approved with a nice wide toe area that allows little feet to spread when they start to crawl and walk. Booties are a great first step to get your little one used to having something on their feet. Babies will often tug and play with their booties, this is not necessarily because they don't like them it is just natural curiosity.
How to choose the best booties?
Comfort
is the number one priority. They need to not restrict your babies foot and be cosy to wear. Our range of baby booties, like most, have a warm fleece lining. This makes them super soft and comfortable so they can be worn by newborn babies. Make sure the material is soft and breathable. Cotton is an ideal choice. Also make sure that any buttons or toggles are securely fastened and can't be pulled off by little fingers and put into their mouth.
Fit
is important. You need to make sure that your babies toes are not curling up at the front and that they have room to wiggle their little toes. Another thing to check is are they adjustable so that they fit your child's foot and ankle but also allows you to then secure the booties well. Having a wide opening makes them easier to put on your babies foot. Baby booties are not like your babies first pair of shoes for walking, they are soft and flexible and designed to be roomy so getting the right fit is not as tricky. They are more for warmth and protection and adding a little bit of structure rather than a first walking shoe.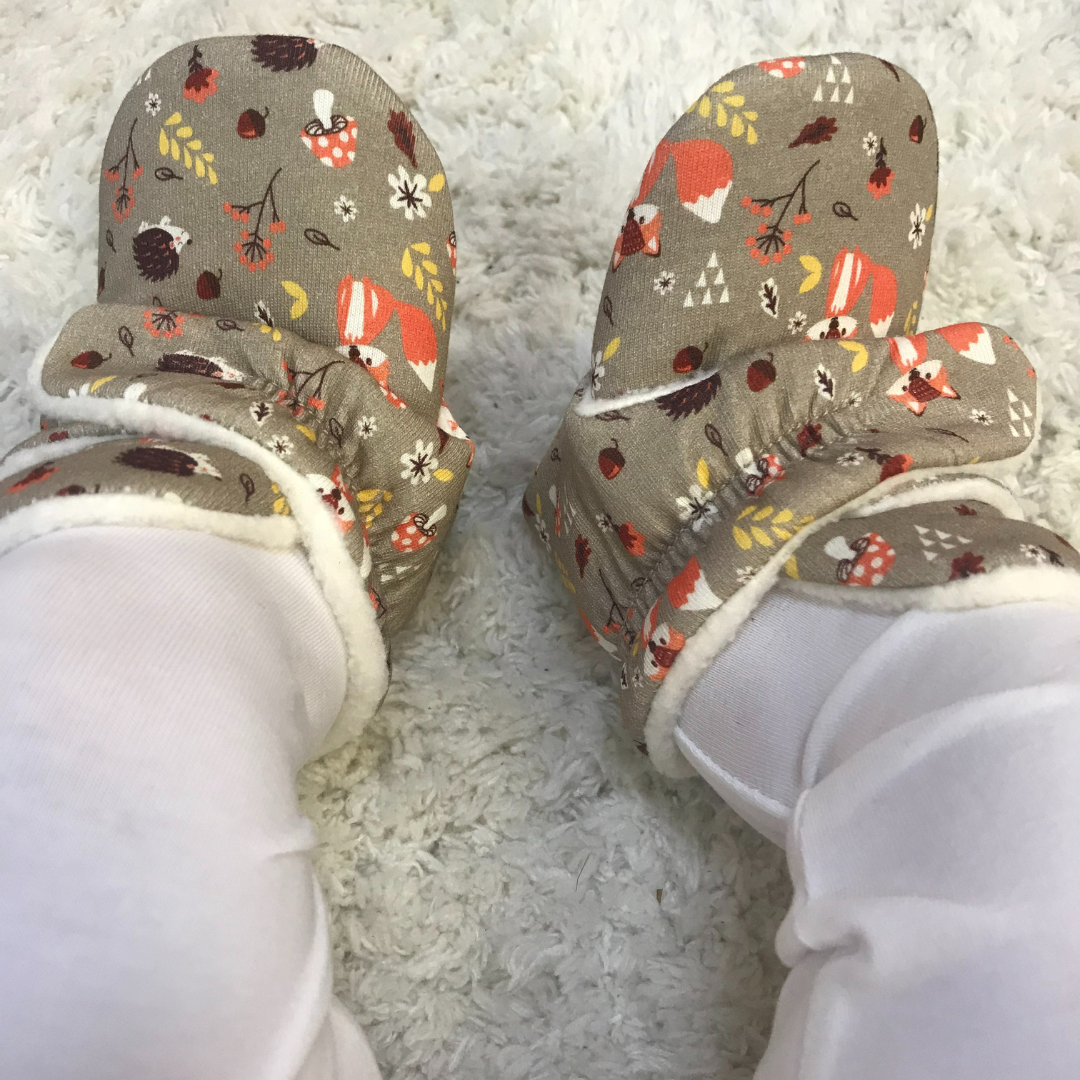 Style
is totally up to you. At Dotty Fish we have six really cute designs to choose from. The 100% cotton we use on our booties has been designed especially for us. You can choose a muted
safari animal
pair or a bright and bold
dinosaur
pattern. Most booties are ankle boots so they stay on and most booties have a warm lining. They are a great choice when out and about. If you are buying booties as a baby shower gift and you may want to consider a unisex pattern. All our booties come delivered in a drawstring gift bag.
Try your hand at making your own booties
If you are crafty or you know someone who is you could always knit or crochet your own pair of booties. There are lots of patterns and instructions on how to do this. Please do make sure that if any bows or buttons are added to the booties they are securely attached as little fingers love to explore their feet and these things can easily become choking hazards. Have a look here at some
patterns
to help you get started.
Happy Baby Bootie Buying,The Dotty Fish Team