We are a small company with big ideas – sounds a little trite but it rings true especially if you have ever sat in a room with Helen our founder! Often an idea starts and gathers a life of its own. This was certainly true when we decided to test our shoes at the London Podiatry Centre a few years ago. It all started from a little idea wanting to see the science behind a less structured shoe for little feet.
The same is true for our packaging journey. We, like so many other companies and individuals, are starting to look at plastic and realise we need to make a change. This seems simple but plastic is everywhere, it is cost effective and easy to source. Changing our packaging was not as simple as it sounded.
Packaging Cost

Our philosophy at Dotty Fish has always been to bring you quality leather baby shoes at an affordable price. Our shoes are podiatry approved and we test our leather to REACH Annex XVII guidelines. This leather testing means we know that our shoes are safe for the little feet that wear them. The Dotty Fish team spends a lot of time making sure the designs are right so that we have a lovely pair of shoes going out for that affordable price tag. This doesn't give us a lot to play with in terms of margins. We need a cost-effective packaging solution; plastic is the easy answer.
A while back we sourced biodegradable and recyclable plastic bags. These are better but it is still not ideal as lots of people didn't know they were recyclable. They don't feel very nice and they definitely don't look very nice. We needed to think about a solution that would mean our shoes are never put into plastic and that required a little bit more thought!
Research

We started looking around at what other brands where doing. How did industry experts fix the problem – the short answer is for the most part they didn't! But there are a growing number of companies who are listening to customers and doing something about the plastic problem. We strongly felt that as a children's shoe company we couldn't just ignore the issue. Paper appeals to us; it feels right to be using paper, but we needed to make sure our leather baby shoes get to you in the right condition, so we needed tear proof and splash proof paper.
We have tested lots of different packaging and tried out different brands but we really like the solution we have found. A tearproof, splash proof paper mailing bag that protects our shoes in transit and doesn't add to the plastic problem. This was great but we wanted to go a little further.
Doodle Design

We wanted a paper mailing bag that looked Dotty Fish, something that was as lovely as the shoes that we put into the bag. We turned to a very talented designer who drew up a little Doodle for us inspired by all our shoe designs. Thanks to Mizz Spizz who drew our amazing doodle that is the perfect design for our brand.
The best part – little ones (and big ones!) can colour our doodle in. A reusable packaging solution for our target audience that can be used for more than just delivering our shoes in.
Supply Chain

Now we had our solution we needed to look at our supply chain to make sure our new plastic free philosophy was being adopted by our manufacturing partners. Our soft leather baby shoes already come packaged in a reusable mesh bag with no plastic being wasted to repackage them. We know these little bags are used for al sorts of things when they get to you and so we where happy with them. We have a cardboard box for our rubber soled Shimmy Shoe range of first walking shoes which fits very nicely in our plastic free mission.
Our organic cotton bibs and legwarmers are now no longer sent in individual plastic bags but in bulk which drastically reduces the amount of throw away plastic we have. They still need something to wrap them in so they don't get damaged during transport but by getting rid of the individual plastic bags and moving to plastic that can be recycled we have made a massive difference. The best part is that we now wrap these in branded tissue paper when sending them out. They look so lovely being packaged up and we have had such positive feedback from customers, so we know we made the right decision.

Sustainability is Ongoing
We are incredibly proud seeing our new packaging go out and we can't wait to see little fingers drawing on our doodle packaging and adding a splash of Dotty Fish colour. (Feel free to share any creations using #DottyFish) Our shoes are designed to protect little feet when they are learning to craw, cruise and walk and we are now taking steps to being more sustainable so these same little feet have a cleaner planet one day.
It is not a destination but a journey and our big idea of getting rid or plastic is just one step on this journey. Our shipping methods are being looked at and we have made some changes to the way we manage this already. We are constantly looking at ways we can improve and changes we can make to reduce our carbon footprint now and in the future. Sustainability is about more than just packaging but it is a huge step in the right direction for us.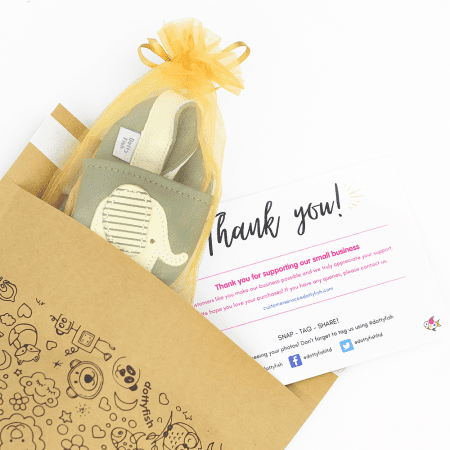 Happy Plastic Free Shopping,

The Dotty Fish Team