Genuine Leather, Synthetic Leather, PU Leather, Faux Leather, Split Leather, Bonded Leather… the list is endless and if you don't know you can be forgiven for thinking that they are all the same thing. With the rise of online shopping the words we use to describe our product have become increasingly important. As a shopper it is often difficult to compare products and tell which the best shoe is to buy especially when shopping for your baby or toddler. We have tried to explain the differences and things to bear in mind when looking at leather shoes for your baby.
Types of Leather
Bonded or PU Leather

This is the lowest grade of leather and is not really leather at all. Bonded leather is shredded leather scraps that have been reconstituted with a polyurethane coating. At first glance it may look like leather but will fall apart very easily. The coating that is added means that it isn't breathable so when used for shoes it will make little feet very sweaty and can rub. PU leather is often marketed as leather and sold at a price much higher than it should for the quality of the materials used.
Full Grain and Top Grain Leather
Full grain uses the whole hide and is the highest quality but also the thickest leather. This is often used in furniture and luggage and will have lots of natural features that develop and change over time. Top grain leather is slightly thinner and has been sanded to remove some of the imperfections and even out the look and feel of the leather. This leather is very high quality but when making shoes for little feet we need something that is slightly thinner and suppler.
Genuine Leather

Genuine leather is made from the layers that remains after the top is split. This layer retains all the benefits of leather and is supple enough to be used to make soft leather shoes for babies and toddlers. It can be made to be smooth, patterned, dyed or shiny. We ensure that our manufacturing partners use leather that meets our specifications and quality standards.
Suede

Suede is still leather it is just the side we don't usually see! It is rubbed to give the characteristic velvety feel that suede has. We use suede on all our soles as it is non-slip so ideal for wearing on hard surfaces like wood, laminate or tiled floors. Suede makes our shoes very flexible, the sole allows toes to still grip the floor and so walking still develops naturally. The combination of leather and suede means all our shoes are very lightweight and comfortable to wear.
Suede can also be used to make the upper part of the shoe, it gives a different look to shoes but is still breathable and lightweight. We use suede in our snuggly fleece lined slippers which are hugely popular.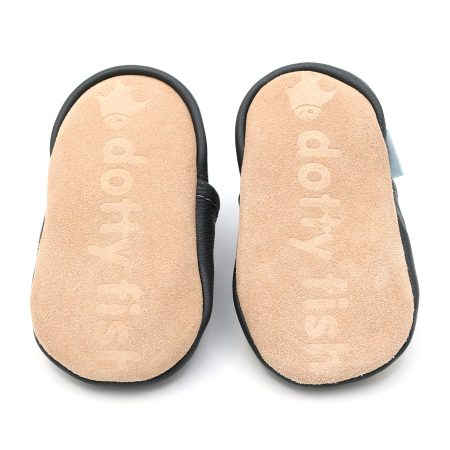 Patent Leather
Shimmy Shoes by Dotty Fish - Black Patent Leather Lifestyle Again despite the difference in appearance this is still leather. The high shine is due to a thin varnish that is applied. It is a very thin coat that doesn't obscure or hinder the natural leather and allows it to still be breathable. Often patent leather is confused with PU leather because of the shiny look. Our Sophie Shimmy Shoes are made using premium quality patent leather that is very durable. This style of leather is great for special occasion shoes or party shoes and looks very sweet.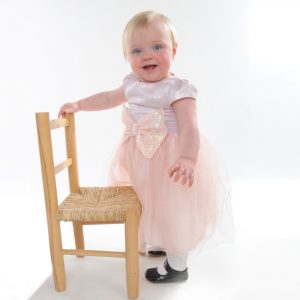 Leather Processing

Dying Leather

Leather goes through several processes in order to make it suitable for use in its many forms. Leather can be treated to give it a pattern, it can be dyed, or it can be left with its natural colours. We work very closely with our manufactures to make sure that the leather we use is safe for babies and toddlers. We have to adhere to very strict EU guidelines and we are members of the BLC Leather Technology Centre. Once dyed the leather is cut and stitched into the various different styles.

Testing Leather

BLC is the UK's leading, independent, leather testing and technology centre, established for over 95 years. It is the only laboratory dedicated to leather, footwear, chemical, and leather product testing in the country. All the leather used in the making of our shoes is tested to ensure it meets our specifications. We sample test it ourselves using the expertise at the BLC. Dotty Fish regularly consult with them to ensure our leather is of the quality and standard that we expect. This is something that not all companies do especially with a shoe that retails at under £10. It is something that Dotty Fish is committed to doing and something that we are rightly quite proud of.

We consider factors like pH, moisture and fat content ensuring that our shoes stay flexible and comfortable to wear. Our suede is also colour run tested by our suppliers. We comply with REACH annex XVII guidelines when testing our leather. This ensures that our shoes don't contain harmful chemicals like lead or chromium. When we say baby-safe this is what we are referring too.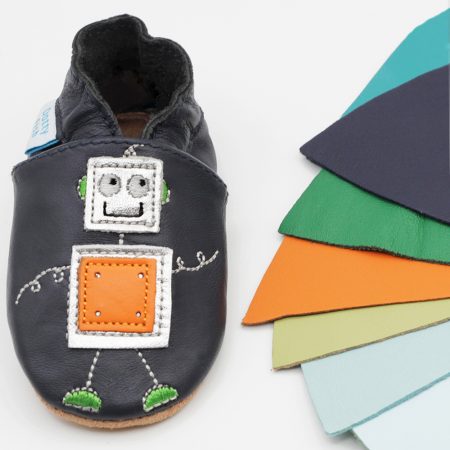 Why Use Leather?
Leather is supple enough to feel comfortable on very young feet but durable enough to work as a pair of shoes. As a natural material it is breathable so feet don't sweat as much as when wearing shoes made from synthetic material. This is especially important for baby shoes as they haven't learned to regulate their temperature yet and can easily overheat. We also use suede for the sole of our shoes as it has excellent non-slip properties. Also by using flexible leather little feet are able to move and develop naturally without much interference from the shoe.
If you would like information on caring for your shoes you can have a look at our tips
here
.
At Dotty Fish we take the quality of our products very seriously and work closely with our manufacturing partners to ensure that we continue to provide quality soft leather shoes at an affordable price. We test our shoes in house to ensure these standards are met. Leather is a natural product though and imperfections can occur, this is part of using something which isn't man made. Sometimes slight colour variations occur and some leather may be smoother than others. We hope this helps explain a few of the terms used by retailers when describing shoes.


The Dotty Fish Team