Is there anything cuter than a pair of tiny baby booties? We don't think so and so we decided it was time that Dotty Fish had a
range of booties
all our own. We teamed up with a lovely fabric designer to create 6 adorable designs that are cute, colourful and fun. Ideal little baby shower gifts that are perfect for new born babies and for little ones while out and about in buggies and baby carriers. We are in love with the new product range and can't wait to hear your feedback and see your photos. Please do share them on social media @dottyfish.
So what is different about these baby booties compared to our
soft sole baby shoes
? Well firstly they are made from 100% cotton instead of leather. They are still breathable, lightweight and flexible but much cosier and more suited to tiny toes, especially in winter. They are also ankle booties, so they come up higher on babies feet. Our soft sole range and our slippers are great for indoor wear but they are not nearly as warm as these new fleece lined booties. Also the fabric allows us to get far more detail into the designs, there are a lot more elements in the patterns than we could ever get with leather.
Stay-on Design

We know that there is nothing more frustrating than arriving home to find you are missing one sock, or worse still one shoe! That is why all our shoes are designed with an elasticated ankle trim so they stay on. The same is true of these little booties. They also have an adjustable hook and loop fastening so they can be adjusted to your child's individual fit. Our baby booties fit snuggly around the ankle and so won't keep sliding off. We have made sure that there is plenty of room for growing little feet though so they will still be able to wriggle those tiny toes and natural foot development will not be harmed. These cotton baby booties are perfect for wearing while out and about and won't get rubbed off while in a baby carrier. They also won't get kicked off while babies are in a buggy or pram.
Cosy Fleece Lining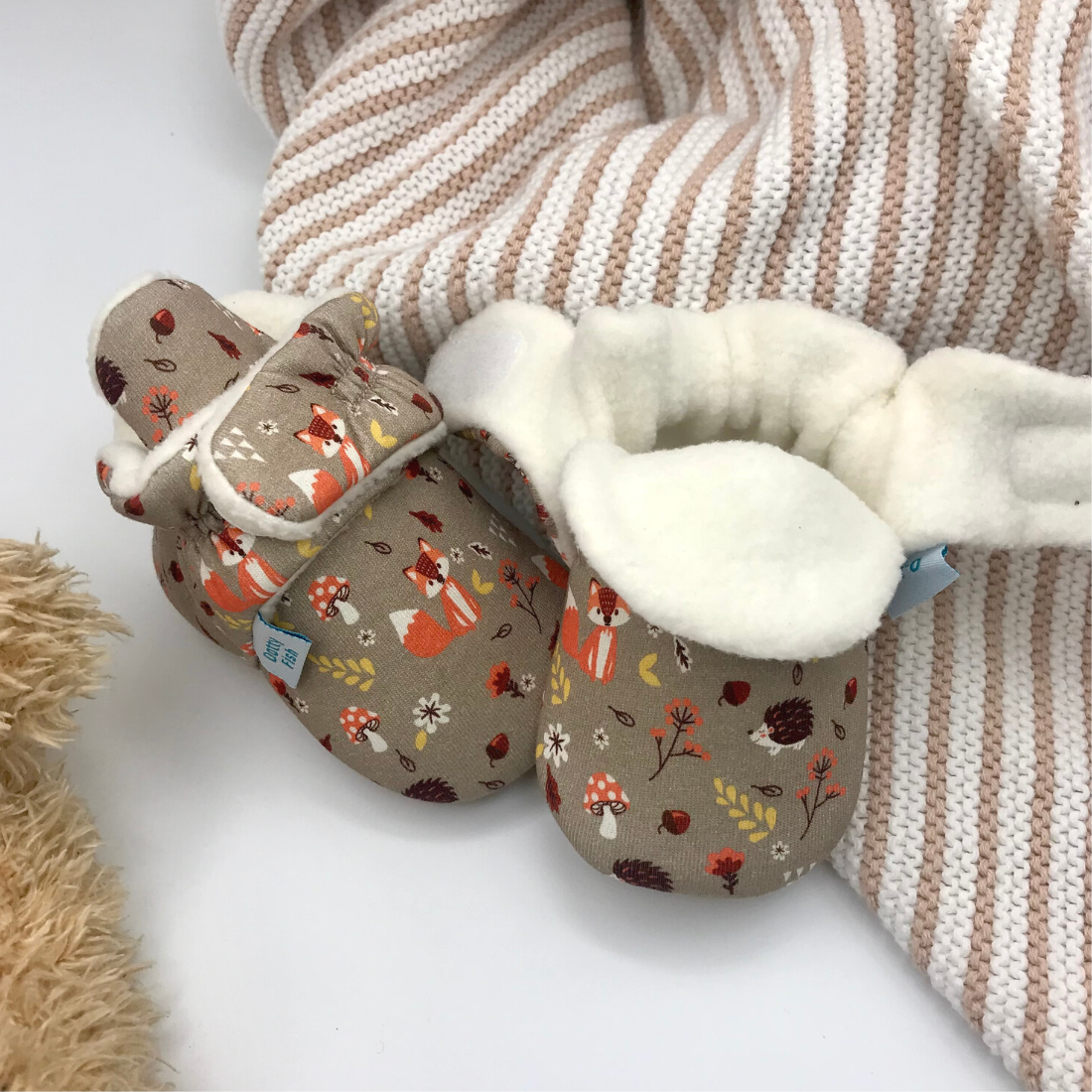 Babies can't regulate their temperature as well and so it is important to make sure they are kept warm, especially their feet and head. That is why we created these first shoes with a fleece lining. They are soft and cosy on babies feet while adding an extra layer of warmth. Because they are made from soft cotton they are still breathable and lightweight but ensure that little feet are kept warm during winter. The design also means that they stay on so you won't get those disapproving looks from strangers while out and about.
The fleece lining is a lovely complementary colour to the fabric designs and completes the look. It is soft and fluffy and so comfy your little one will not want to take them off. The entire bootie is lined in fleece so even the bottom is warm and comfortable. We have used the same fleece in these booties as in our
slippers
, we know how soft and cosy it is and how many rave reviews we get from parents about it so decided to stick with it.
Treasured Gift

All Dotty Fish baby booties come presented in a drawstring organza bag and are delivered using our sustainable packaging. They make a treasured baby shower gift and are perfect for baby announcement photos. As they are soft and lightweight they are suitable from birth so they are just perfect as a welcome to the world gift. We have designed them to suite everyone. We have bright colourful designs like our dinosaur baby booties or a more muted safari animal baby bootie which is perfect for new-born's. Parents will love the soft feel of them and they will be treasured as their babies first shoes yet are still very practical.
Non-slip Sole
Although these baby booties are designed for young babies we all know how quickly they grow. That is why we decided to keep our signature non-slip suede sole on these shoes. That way when they start to crawl, cruise and walk they will still have some grip under their feet. Suede is ideal as it is durable, anti-slip and flexible and so it makes the perfect solution for these ankle booties. The baby booties are available in 0-6 months, 6-12 months and 12-18 months. They have plenty of room to allow feet to spread when babies pull themselves up against furniture and start taking those first steps.
Winter booties for babies and toddlers have been something we have wanted to introduce for a while now. We are beyond excited about this whole new product range. Please do let us know what you think and any other ideas or new products you would like to see from Dotty Fish.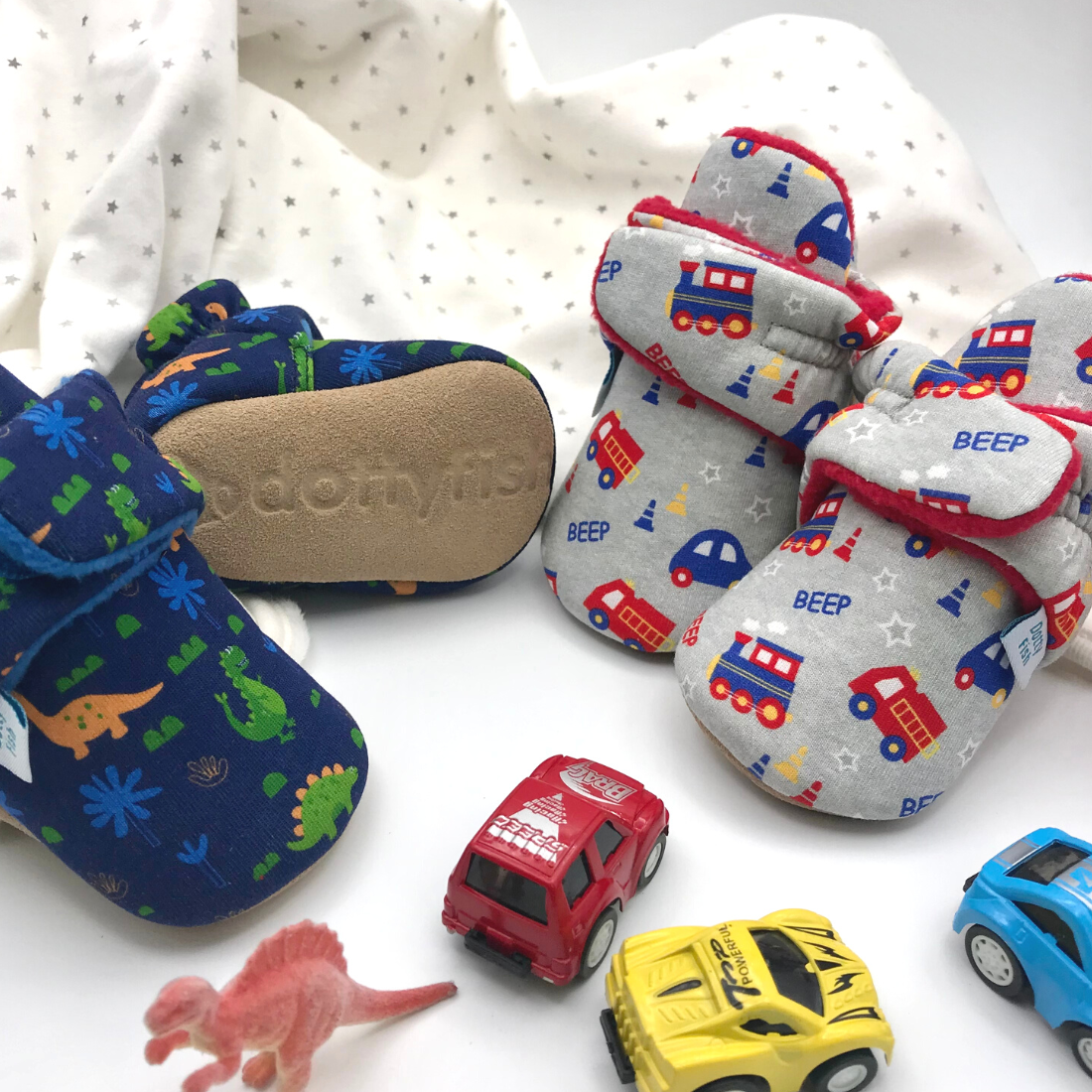 Happy Shopping,The Dotty Fish Team