HOW TO PHOTOGRAPH YOUR BABY AT HOME
As a professional newborn photographer, I always advise the ideal time to bring your baby in for a studio newborn session is from birth up to 21 days. This is primarily because babies are still very sleepy at this stage which also makes them easier for me to pose. However, as you are looking to photograph your baby at home this isn't really as crucial. As a newborn photographer, I've only got a few hours to provide you with a full gallery of beautiful images, whereas if you're attempting this at home, you've got a lot more time to capture those picture perfect shots of your little one.
THE BASICS
Make sure the room is nice and warm before you start. This is particularly important if you want to capture images of your baby naked or just in their nappy. Newborns are not great at regulating their body temperature, so make sure to watch for signs of your baby being too hot or too cold - the best way to do this is to feel their tummy or their neck. If babies are too hot, they may appear flushed or start breathing rapidly. Your baby's hands and feet are not a good indicator as they will usually be a little cooler than the rest of their body.
Finally, decide what you want to photograph your baby on. I would suggest using a soft but firm surface and layering it with a decorative knitted blanket or throw. So that could be your sofa, your bed or even putting a sofa cushion down on the floor and throwing a nice blanket on top.
Neutral colours go a long way - for my studio sessions, I mainly use soft toned backdrops on my beanbag, as I don't want to draw attention away from the most important thing - your baby, of course! But if bright colours and bold patterns is your thing, then go for it - you do you!
Another very important factor to achieving those adorable sleepy newborn photos is that baby is full and content before you go ahead with your shoot.
NATURAL LIGHT
When it comes to newborn photography, you don't need expensive studio lights to capture beautiful photos. I often use natural light in my studio as I find it more flattering on baby's delicate skin and it is actually really easy to work with if you follow these few simple steps.
Firstly, time your session right. Try to shoot mid-morning or mid-afternoon to avoid the harshest light from the sun. Always avoid placing baby in direct sunlight, but rather try to diffuse the light using sheer curtains. In my studio, I will place baby next to a large window, with the light gently illuminating one side of baby's face. In the image below, the window is on his left - notice how this creates a lovely, soft shadow that feathers across his face, giving the image more depth and character.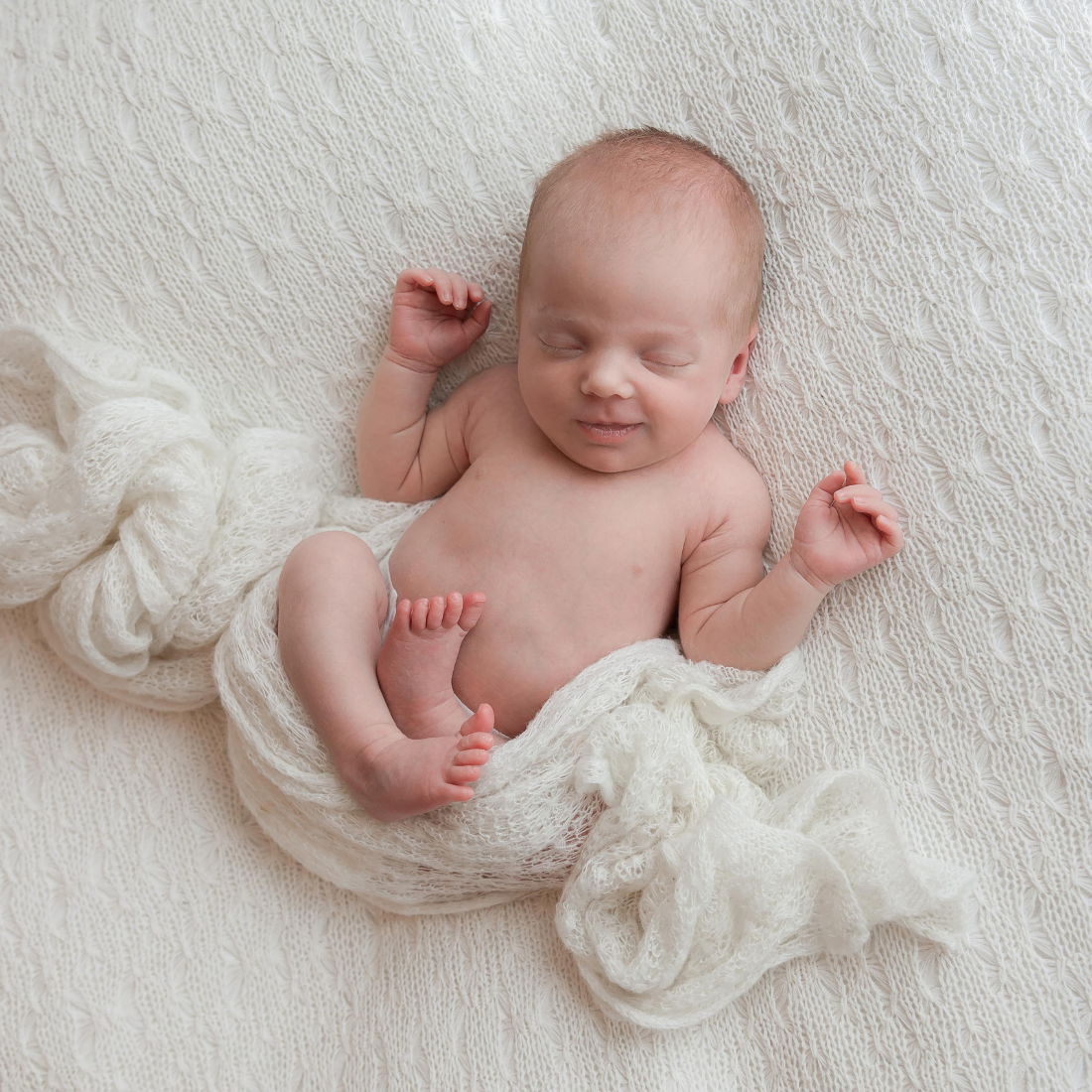 SWADDLING

I would suggest swaddling your baby for at least some of the images. Most young babies love being swaddled as it makes them feel secure and cosy. If you want to try swaddling, you can either use a large muslin or a thin cellular blanket. I always swaddle newborns using at least two layers - for the inside layer I use a stretchy fabric to make sure their little arms don't break free and for the outside layer, I use a pretty, textured fabric. There are lots and lots of simple swaddling tutorials on YouTube. If you're feeling up to it and baby is asleep, try to get one (or both!) hands out from the wrap and play around with some different poses.
IT'S ALL IN THE DETAIL
Go in for closeups of their little hands, grab a few detail shots of their cute button nose and tiny little toes, pull back for some overhead shots and try out a few different angles - don't be afraid to experiment! These are the little details you won't want to forget and you will love looking back on these as your baby grows.
SIBLING PORTRAITS

My most requested sibling portrait setup is very simple and fuss-free - I ask the older siblings to lie down first on a large fluffy rug of the parents' choice, and I'll then lay their newborn sibling down, cradled securely in one of their arms. I'll then position myself directly above them and take the photo from above. This is always a parent favourite and one that is super easy to recreate at home.
Lying down on a blanket or rug. Ensure the space you are photographing in is warm and well lit. Find a nice, comfortable blanket or rug to throw down and get your eldest to lie down first, with a pillow underneath the rug to ensure their head is slightly raised off the floor. If your eldest is happy to have their baby sibling resting on their arm, this is always my go-to. Some toddlers will flat out refuse this, in which case you can simply have them lying next to each other instead. A little tip - ask another adult or older child for help, in holding up a phone with your toddlers favourite TV-show up above the camera. Then snap away!
If your toddler refuses to lie down next to your baby (many do, I promise!), another option is asking your toddler to simply sit next to baby, holding their hand.
I'll usually ask them to point out their baby brother or sister's nose, mouth and toes - making it into a little game (and all the while giving lots of praise!) which can make for some super cute, unposed photos. Try to encourage natural interaction as much as possible and remember to give lots and lots of praise the whole way through.
PARENT PORTRAITS

These are usually the ones parents aren't so sure of - when I ask if parents would like some photos with their newborns I am often met with comments like, "I've not done my hair/makeup today", "I've not yet lost the baby-weight" and the one I (sadly!) hear the most is "I hate photos of myself". But I can say for a fact that you won't regret having them done - but in a few years' time, you may regret NOT having them done.
Instead of posed shots, looking straight at the camera, I personally prefer more natural looking silhouetted profile shots - for instance, of the parents lovingly gazing down at their little one or giving them a little kiss on the head or nose.
My classic, go-to family portraits are back-lit and create a dramatic, silhouetted effect. These shots are easily achieved, even at home - but you will need the help of another adult or older child unless you have a tripod to hand and can set your camera on a timer.
Find a bright window and position yourself in front of it. Make sure the person taking the image is standing facing the window and that the camera's focus is on you and baby.
Don't miss the opportunity to capture a few silhouetted shots of your baby on their own too, making sure to include the hands of whomever is holding them! A lovely shot for you to look back on, to remember just how tiny they once were in your hands.
AND FINALLY...

Don't worry if you can't get the exact images you set your mind on getting straight away. You can always try again later. Take your time, don't rush it. And most importantly.. Enjoy your newborn cuddles!
Happy Memory Capturing,Yasmin and The Dotty Fish Team
https://www.starspeckled.com/