Choosing the Right Shoe Size for Your Baby: A Comprehensive Guide by Dotty Fish
When it comes to your baby's first steps, every detail matters, and that includes the shoes they're wearing. As parents, we understand how vital it is to make the right choices for your little ones. It's all about striking the balance between style, comfort, and practicality. But we understand, it can sometimes feel like a daunting task especially when infant shoe sizing can be so different.

At Dotty Fish, we're committed to making this journey smoother for you. We're here to guide you through the process, ensuring your baby's feet have the space they need to grow and the support they need to explore. So, let's walk together on this exciting path!
Measure Twice, Buy Once
First things first, getting an accurate measurement of your baby's foot is vital. On our Dotty Fish website, we offer a handy printable foot measuring tool designed specifically for little feet. Simply print it out, follow the instructions and you'll have a precise measurement in no time.
But, we understand that babies often have their own schedule and measuring their foot can sometimes become an impromptu game of tag! Here's another simple method you can use at home:
Place a piece of paper on a flat surface.
Stand your baby on the paper, making sure they are leaning slightly forward – this is a more natural position as it replicates how feet spread when standing.
Mark the back of the heel and the tip of the longest toe on the paper.
Measure the distance between these two points.
This gives you the length of your baby's foot. It's always a good idea to measure both feet as they can be slightly different sizes. And of course, go with the largest measurement - we don't want any squished toes. Whichever shoes you choose to buy having the foot measurement will allow you to buy the right size for your little one. We also have a short video on YouTube that will show you exactly how to measure your child's foot.
Give their Feet Some Breathing Room

Remember, your baby's feet are not just mini versions of adult feet. They are softer and plumper, which means they need a little extra room to spread out, especially when starting to stand or walk. The NHS advice states that it is important that shoes and socks are the right size.

Babies' feet are soft, pliable, and designed for growth. They need shoes that can accommodate this constant change. They are also plumper, which means they need a little extra room to spread out, especially when starting to stand or walk.

When choosing a shoe size, always ensure there's about one finger's width between the end of the longest toe and the end of the shoe. This extra space allows their little feet to move and grow without restrictions, promoting healthier development. Here at Dotty Fish, we have included a 1cm growth room in all our shoes, so you don't need to add that in when using our size guide.
Style Matters: Catering to Unique Feet
Babies, like adults, have diverse foot shapes. Some may have wide feet with high arches which can affect their choice of shoes. Shoes that are too narrow can lead to discomfort or even developmental issues. Equally a narrow foot that has shoes that are baggy can cause them to trip and fall when they are new to walking.
That's why at Dotty Fish, we have a wide range of styles that cater to different foot shapes and needs. Our soft-soled shoes, for instance, are perfect for wide feet as they allow ample space for movement and spread. For toddlers taking their first steps, our podiatrist-approved pre-walker designs offer the required support while ensuring comfort.

Why Soft Sole Shoes?
When it comes to babies and toddlers, soft sole shoes are a top choice among podiatrists. Unlike hard sole shoes, which can restrict the foot's natural movement, soft sole shoes allow for maximum flexibility.
This freedom of movement is critical in the early stages of walking, as it promotes better balance and encourages natural muscle development. In our soft sole shoes, your child's feet can continue to grow and develop uninhibited, just as nature intended. Do remember that barefoot is always best so whenever practical let your baby walk and play without shoes on but when it comes time to protect their growing little feet you can slip on a pair of our shoes knowing that they have been tested and approved by the experts.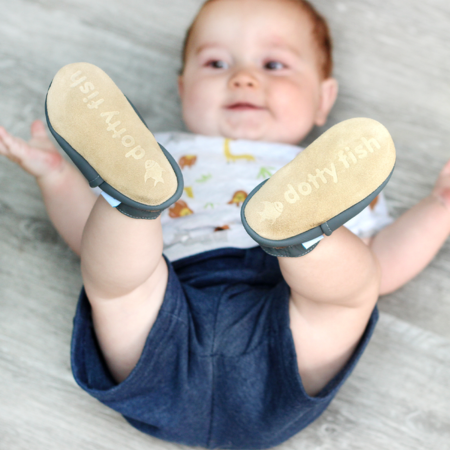 Making the Right Choice with Dotty Fish
We know how crucial these initial stages of foot development are for your child, and we're dedicated to helping you make the best choices. Remember, each baby is unique, and there's no one-size-fits-all solution. Always consider your baby's individual needs and foot growth when choosing a shoe.
At Dotty Fish, we take pride in being experts in baby footwear. We're here to offer advice, reassurance, and quality shoes that take the guesswork out of this important phase in your child's life. Because we believe that every step your little one takes should be a step made in comfort, confidence, and style.
Happy stepping, from the Dotty Fish team!