Navigating the Seasons: Appropriate Footwear for Your Child
In this blog we will share some advice on choosing footwear for different weather conditions and activities. As we move into autumn and the weather gets chillier it suddenly becomes apparent that babies' feet need protecting and keeping warm. Here at Dotty Fish, we firmly believe that barefoot is best, but it isn't always practical. Read on to find out what shoes to get for babies and toddlers and when to use them.
Autumn: Keeping Little Feet Cosy and Stylish
our suggestion for baby footwear in
autumn
is a soft sole leather baby shoe. We have the cutest little designs that are perfect for pairing with autumn outfits. Any soft sole baby shoe is good for autumn as long as it is made from a natural, breathable material like leather or cotton.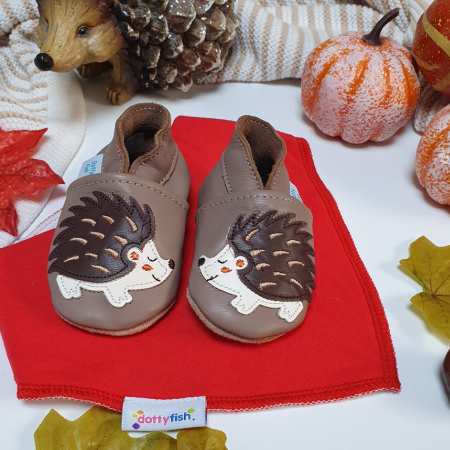 Socks Won't Stay On? We Have a Solution!
This is something we hear all the time from parents, socks just don't stay on wriggly little feet. You go out for a walk and come home with one or both socks missing. They have either been pulled off or kicked off while you are out and about, and several people have given you disapproving looks while your babies' feet are out in the open. We have
soft leather shoes
that are perfect for keeping socks on and providing a second layer of protection for little feet.
All our soft leather baby shoes have been podiatry approved and they are the next best thing to bare feet. The elasticated heel trim means they fit comfortably and most importantly won't be pulled off. So, you arrive home with no missing socks or shoes!
Winter: Ensuring Warmth and Comfort in Cold Months

Winter bring short days and cold weather so is the perfect season for cuddling up on the sofa reading books and drinking hot chocolate. It is also the perfect season for
cosy slippers
and
warm winter booties
. Our warm winter baby booties are great for staying on younger babies. The fleece lined booties have an elasticated ankle and an adjustable ankle strap which keeps them on. We also have a range of suede slippers that are always popular. The slippers are just so cosy, and the suede has been tested to ensure it is safe for babies and young children to wear next to their skin.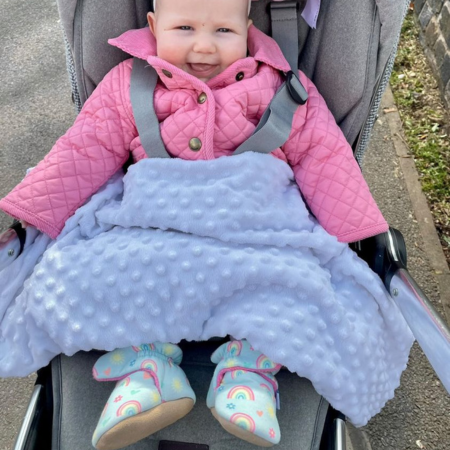 Babies lose their heat through their extremities so a warm hat and booties are a must in winter. If they are out and about in a buggy, then a blanket is great, but they tend to kick this off so little feet stick out the bottom. Having an extra warm pair of fleece lined booties helps to ensure they aren't getting cold. Out booties are nice and roomy so you can put them on over socks or baby grows when they are very young. We have some lovely fabric designs to choose from. Any warm winter booty is good, again make sure it is made from a breathable material and that they open wide so that they can be put on easily. A wide toe area is important to allow babies feet to move and wiggle without restriction.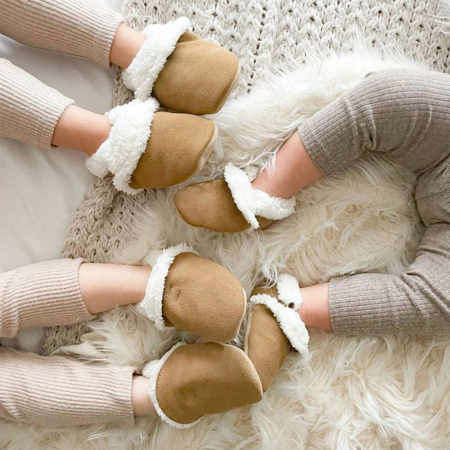 What to Look For in First Shoes for Winter
Toddlers who are running around may need something that gives them a little more protection from the elements. Our shoes are great for indoors but aren't recommended for outdoor wear as they have a soft, flexible suede sole. When choosing winter shoes for young children ensure that they fit well and have a wide toe box, so feet aren't crushed. Make sure that they are not too heavy and restrictive, they should be lightweight and flexible so that feet can still move naturally. You might want to choose a shoe that has a warm lining to give added warmth in winter or make sure the shoes will be waterproof. Having something that is easy to put on is best so that young children can start to learn independence by putting their own shoes on and taking them off again. Shoes and boots need to protect them from cold and wet winter weather so bear that in mind when choosing your shoes and get them measured regularly so that their toes aren't being curled up in shoes that are too small for them.
Allow young children to be barefoot as much as possible when inside. If it is cold, then a pair of soft sole slipper or leather indoor shoes is ideal. Here at Dotty Fish, we have our soft sole shoes going up to age 4-5 years in age for this purpose. They are great as they all have a non-slip sole and provide a second skin that just adds a little bit of warmth and protection when playing inside.
Christmas Themed Baby Shoes
We couldn't write a blog about the seasons without mentioning our
Christmas range
. Cute polar bears, adorable penguins and the sweetest little colourful snowman all feature on our leather baby shoes. These make lovely Christmas gifts for babies and toddlers. All our slippers are also great little stocking fillers and are much appreciated on Christmas morning and beyond. They all come delivered in a drawstring gift bag and are sent out using sustainable packaging.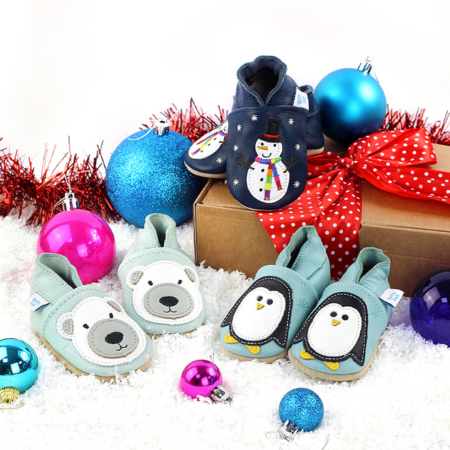 Spring: Transitioning with Lightweight Shoes
This in between season can be tricky as you just never know if it is going to be warm or not. A pair of lightweight leather baby shoes that can be popped on easily when it is chilly is ideal. Shoes at this time of year can be a little more open so a pair of
T-bars
are great.
We have a range of rubber soled shoes that are perfect for pottering around outside in spring. Canvas shoes are also a good option in spring as they are a little more lightweight. It may even be warm enough for sandals but not warm enough for completely bare feet yet. Our soft sole sandals start selling at this time of year and are often worn with or without socks.
Summer: Embrace Barefoot Freedom Safely
Summer is when you can take advantage of the weather and let little ones enjoy the feel of grass and sand on their bare feet. If it is very hot, you need to make sure they aren't walking on hot surfaces without protection. A lightweight pair of
sandals
is good for that. Any sandals that you choose for babies and toddlers should be very lightweight and flexible and again be made from a breathable natural material. Try and avoid plastic shoes as these don't allow feet to breath and they can cause blisters as they rub. Totally enclosed shoes can also cause feet to sweat and as mentioned earlier barefoot is always best so whenever possible take advantage of the summer months to let little feet breath.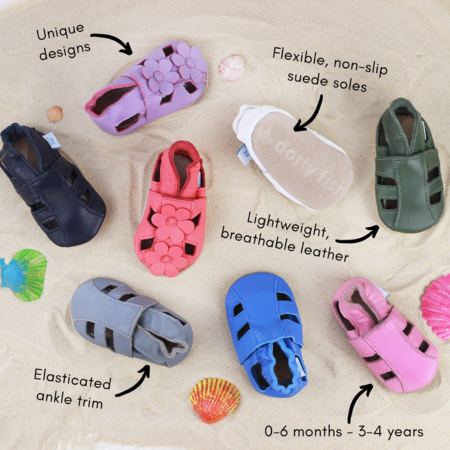 Fashionable Baby Shoes – What to Avoid

It can be tempting to buy a pair of shoes just like mummies or daddies but please do ensure that these little mini versions of adult shoes are suitable for young feet that are still developing. Babies' bones are still forming, and they are very malleable so you don't want shoes that can cause problems with their gait in the future. All baby and toddler shoes should be lightweight, flexible and adjustable. They shouldn't restrict the foot at all and should allow little feet to move and wriggle. They should never have a hard, heavy sole or be too tight. Never force you babies' foot into a shoe, they should always be easy to put on and when you take them off, they shouldn't leave any red marks or blisters.
We hope this helps you when choosing shoes for each season. Do tag us in any photos of your little ones wearing Dotty Fish shoes whatever the season. You can use
#dottyfish
on
Instagram
and
Facebook.
Happy Toddling,
The Dotty Fish Team