We're always so proud of all of our gorgeous shoes and are thrilled that our soft soled shoes received rave reviews from the Bizziebaby testers earning them GOLD two years in a row! Our multicoloured Navy Spotty Dotty is one of our original designs and quickly became one of our best sellers.
We are so proud that our gorgeous shoes have been recongnised again and Bizziebaby described them as "the ideal baby shoe and perfect for toddlers too" They were a hit with their testers who put the shoes through their paces.

What the Bizziebaby Reviews said:

Katy & Georgie, 3 Years
"we found these shoes to be made of excellent quality and of robust nature for everyday use with the added luxury of being soft enough for comfort."
"Nicely packaged and look well-made and good quality. Very comfortable for my toddler as they are made from good quality soft leather. Easy for me to put on and off and after little practice Georgie managed herself as no laces or zips which allowed her to easily do it. Being approved by professionals such as podiatrists was extremely comforting that using daily would not cause any harm to her growing feet, bones and ligaments in feet. I liked with the sustainable packaging, I find this important when purchasing products in today's society and in long run better for our environment."

Chloe & Teela, 3 Years
"She takes them everywhere she goes in her bag"
"Very easy for both of us to put on and take off. The elasticated ankle trim was very useful, even when climbing on and off of sofa. Teela wears these every day but as a slipper. Being podiatry approved is good to know and the soft bottom is great as they can still feel where they are going and not heavy to wear.

Very easy to keep clean just wipe over. I thought the packaging was very nice because it was recyclable. My daughter loved the dot design. I thought they were very good for a first shoe or a slipper. The quality is very good. I would recommend and already have."
Deanna & Freya, 19 Months

"The packaging was lovely, they really went the extra mile in presentation."
"My initial impression of these shoes was that they are very cute to look at. These were Freya's favourite pair of shoes to wear, really easy to put on and super flexible perfect for new walkers. These are so flexible and lightweight. They make baby feel like they haven't got any thing on. When I put shoes on her before I found them to be quite heavy and she hated to wear them but with dotty fish she loved them because of how light they are. My daughter loved the dot design and loved to point at them. I loved the durability and how easy they are to put on. Lovely quality shoes. I would buy these as I loved the designs available online. I loved the colours and Freya loved to point at the different dots. super easy to put on and off, easy to store in nappy changing bags and baby walked with ease in them instead of clumpy heavy trainers/shoes. I would recommend for all the reasons above."
We've always been so proud of all of our gorgeous shoes and are thrilled that we have been recognised in three categories this year. We have been awarded a Gold for our soft leather baby shoes. Our slippers have been awarded a Silver as too have our sandals. The testers at
Bizziebaby
put our shoes, slippers and sandals through their paces and we can now proudly say our podiatry approved footwear are also award winning baby shoes!


Nya the Elephant awarded the GOLD Award by Bizziebaby

As soon as we launched Nya the elephant last year it has been on many little feet around the world. So now, not only is it our bestselling soft sole shoe, but it also comes with a Gold Award from Bizziebaby,

We are thrilled that these little shoes have achieved this award – Bizziebaby describe them as "the cutest little baby shoes" and couldn't agree more!
What the Bizziebaby Reviews said:
Carol & Evie, 21 Months:
"10 out of 10 I am really impressed with them; the quality is so high the design is beautiful and they are just all-round lovely cute shoes for pre-walkers or shoes for children walking as it for slippers. Absolutely
love
them"
Nichola & Freya, 2 Years
: "I was initially impressed by the
pretty
packaging and could immediately smell the leather. They felt lovely as they were so soft and lightweight. The shoes seemed really comfortable. Normally my daughter will often pull shoes off after a short period but she seemed happy to wear these. The quality of the shoes is
fantastic
and with them being leather I think the price is great."
Rebecca & Twins Oscar & Ava, 2 Years 5 Months
: "Excellent fit, comfortable and super
cute
. my girl twin has very wide feet and I was concerned they wouldn't fit but they did, brilliant! I found these very easy to put on. I loved the material and how well they fitted them. The quality is
excellent
. An excellent product that was
loved
by both me and my twins."
Dotty Fish Sandals awarded the SILVER Award by Bizziebaby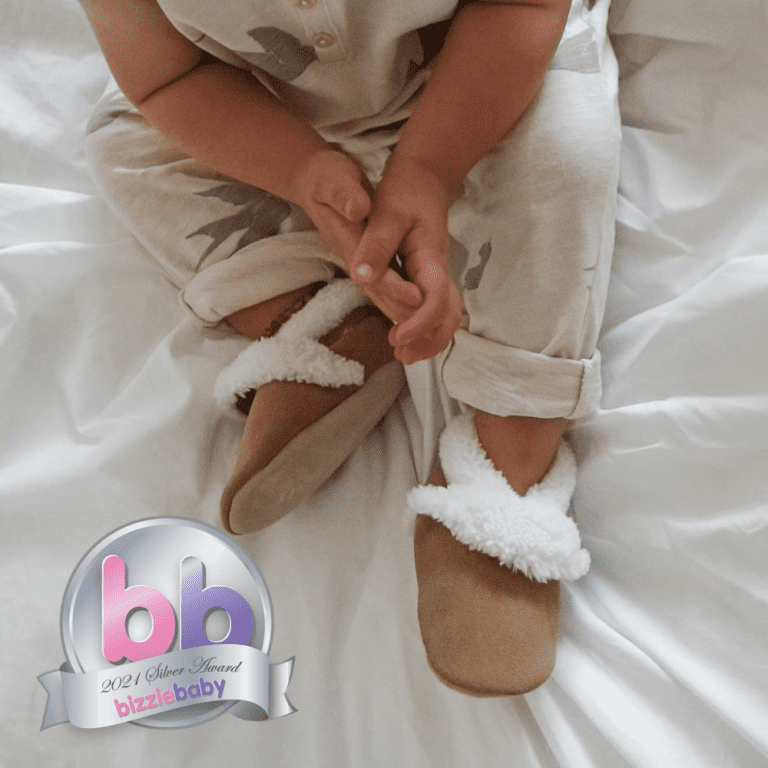 Our super cosy fleece lined slippers are a firm favourite with our customers. Perfect for keeping little feet snug and warm and the non-slip sole means they're also great for use on wooden or laminate flooring.
They are so comfortable to wear that little ones don't want to take them off; and that's one of the many reasons they've been recognised by Bizziebaby who describe them as "perfect for keeping little feet snug and warm when it's cold outside"
What the Bizziebaby Reviews said:
Rachel & Jacob, 3 Years
: "These are completely non slip and have been fantastic! They are very
comfortable
. Jacob loves to wear them and has even asked to wear them when we "go out". The quality is
fantastic
, right from the packaging to the slipper finish. Well made, robust, comfortable and my son
loves
them!"
Nathan & Clara, 2 Years:
"Very easy to put on and off, child could do it also with a little bit of help. She liked wearing them, liked the appearance and appeared comfortable walking around in them and sitting down without taking them off. They look
beautiful
and appeared comfortable. As a parent I like the non-slip sole"
Lucy & Leo, 3 Years
: "They were
soft
, lovely packaging. These were a good fit for Leo. Really nice quality and made to a very
high standard
. The packaging was Fab just loved it."
Dotty Fish Sandals awarded the SILVER Award by Bizziebaby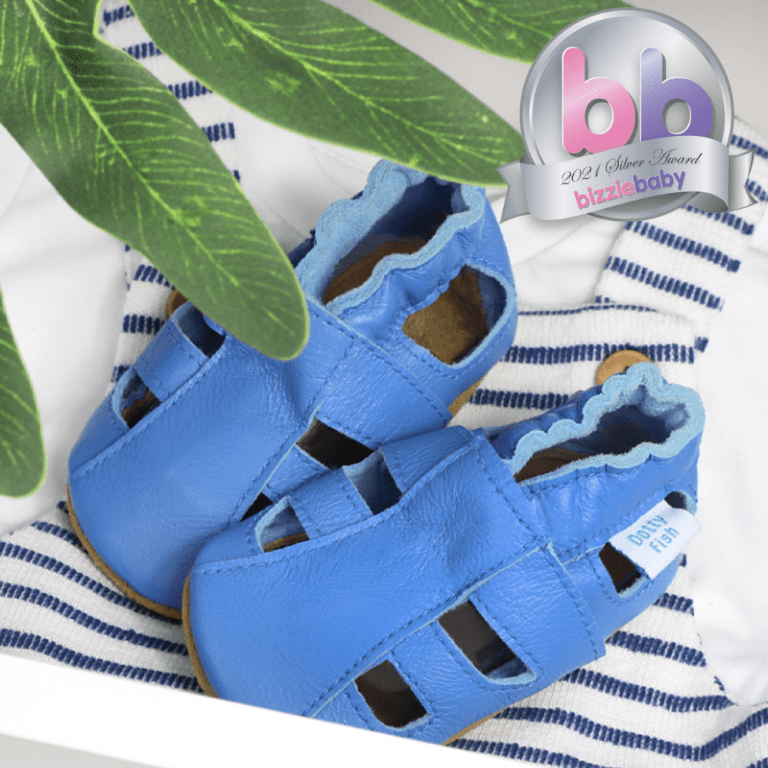 Our sandals are available in lots of colours and designs and perfect for protecting little feet as well as keeping them cool during the warmer months. Designed with an extra wide toe area, so they don't restrict foot movement and growth as well as an elasticated ankle trim so they are well fitting and don't keep coming off. Bizziebaby described them as "flexible and lightweight and make great first shoes for babies and toddlers learning to crawl, cruise and walk"

What the Bizziebaby Reviews said:

Jessica & Daisy, 11 Months
: "My daughter has worn these almost daily, super
cute
and fab to crawl around in and aided steps. Very
breathable
and kept her feet cool. So easy to keep clean. You can wipe down. I liked the flexibility, durability and how cute the design is.
Excellentquality
!"
Abigail & Lucy, 14 Months
: "These are nice and
stretchy
, easy to put on and off. These are nice and lightweight and plenty of space for growth of the feet – not restrictive at all. They did keep feet
protected
and cool. I like the range of colours they came in (it was hard for me to choose!)."
Jess & Twins Sophie & Isabelle, 2 years
: "I was very impressed that they arrived in a gift bag with
no plastic packaging
. They felt
so soft
and comfortable and They were immediately loved. My little girls wore these everyday while on holiday for a week. These are bendable and give plenty of space for growing toes. These have plenty of
space
and breathing holes which keep feet nice and cool. My girls loved the fact that they are easily able to put them on and off themselves. I liked how soft and comfortable these were. I thought these were good quality. These made
perfect
holiday slip on's and were a much better option than flip flops."
We're thrilled with all the comments our shoes received as well as the awards themselves. Having award winning baby shoes means that we have the stamp of approval from impartial parents who have tested our shoes thoroughly. And it's great to know if you're considering getting a pair for your little one. It's one thing to hear us going on about how great they are, it's another to hear how much other parents love them!
Thank you to all our lovely customers for helping us get where we are today and as always, we love seeing your little ones wearing their Dotty Fish shoes, so if you're out and about picking daisies, making sandcastles on the beach or playing in the garden, we would love to see your photo's, please do share your photographs using the #dottyfish on Instagram, Facebook or Twitter.
Big Hugs All Round,

The Dotty Fish Team